Summer Continues to Look Stormy and Cool


MCS Train to Continue With Thunderstorms Sunday-Tuesday
As addressed all Spring and Summer long the Ohio Valley was going to be in the battle zone between hot and dry conditions to the southwest and cool and wet weather across the north. That pattern has not changed and a change does not seem to becoming any time soon. A "rinse and repeat" pattern is the best way to describe the pattern this region has been in and if this sounds like it is getting old, it is. This area has been in this pattern for nearly eight months now.
Mean Flow:

Storm Tracks Across Midwest and Ohio Valley; Courtesy of NCEP
The above map shows the flow of storm track movement over the next 3 to 4 days. Showers and thunderstorms develop with waves of energy over the Upper Midwest and then race east and southeast into the Ohio Valley with daily threats. When you get into the summer pattern it is hard to break up this flow because the jet stream is at its weakest point and tends not to move very far from it's summer position. This promotes the same type of weather for many days. The below maps represent this well.
Sunday:


Rainfall through 8AM Sunday Morning; Courtesy of NCEP
Overnight tonight a few lines of showers and thunderstorms will cross the area bringing with it heavy rain, small hail, and gusty winds. An isolated severe storm is always possible in these situations.
Monday: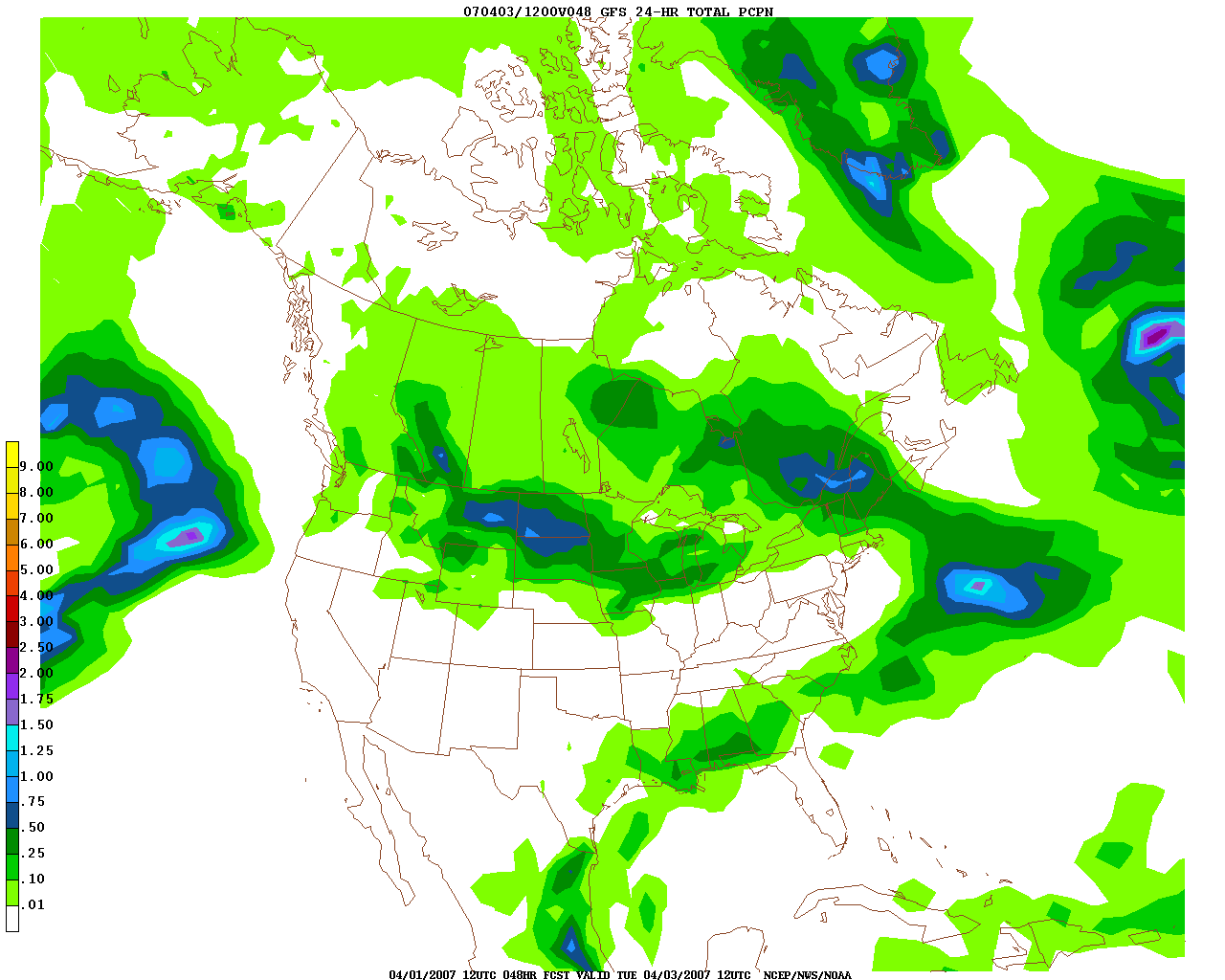 Rainfall 8AM Sunday-8AM Monday; Courtesy of NCEP
For Sunday afternoon into Monday morning, another disturbance will enter the upper Midwest slide through and hit the Ohio Valley again with showers and thunderstorms.
Tuesday: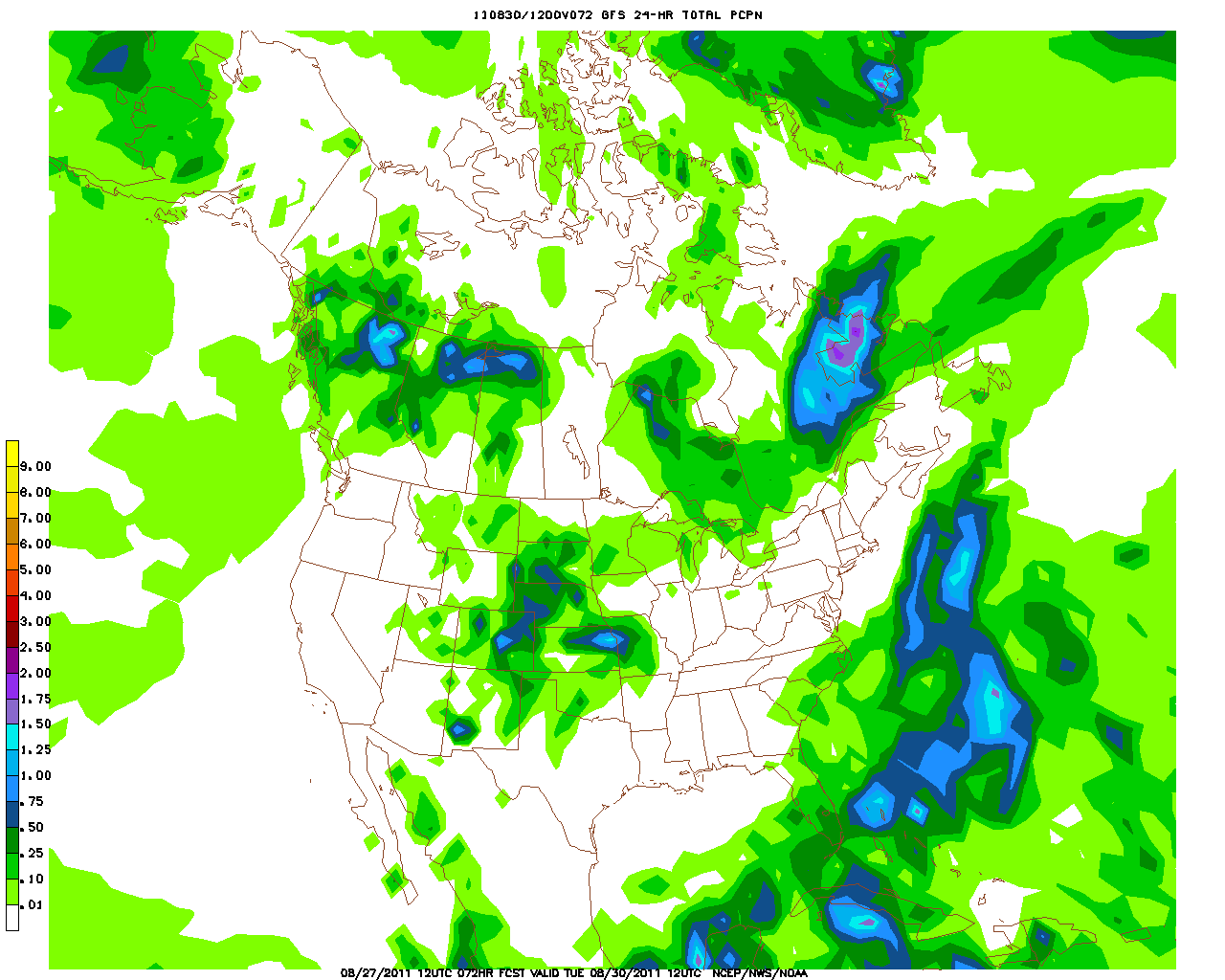 Rainfall 8AM Monday-8AM Tuesday; Courtesy of NCEP
The pattern continues through Tuesday morning. At this time, a stronger storm system appears to cross the region with widespread showers and thunderstorms. On Monday, the storms have a better chance of being severe with the stronger disturbance as it slides through the Ohio Valley.
On Tuesday a weak cold front will slide through setting up a brief break from the precipitation but the dry weather will not last long. Models have been struggling mightily in trying to figure patterns like this out. They want to bring in warm to hot conditions based on climatology but 2011 Summer will not fit the bill of normalcy.
As posted last week, models hinted at several days in the low to perhaps mid 90s but that scenario failed. Each day as we drew closer to the heat, models developed more clouds and better chances of precipitation and the 90 degree mark was difficult to achieve. A few spots got there but the widespread anticipation of heat was largely overplayed.
Mean Flow Friday:

Heat Ridge Struggles to Overtake Region. Courtesy of NCEP
The struggling continues into this week. Much like last week, models initially had several dry days and progressively warmer temperatures for the Ohio Valley region, yet as each day goes by, the newer data suggests a little less ridging corresponding to a little less heat. In all honesty, this is almost a dead carbon copy of last week. A few days ago starting as early as Monday, sources were calling for upper 80s to low 90s with little to no rain but things have changed. This will go a long way into curbing the heat that is now being called for late next week. If it sounds like a broken record get used to it for a while longer. I refuse to buy into any significant heat right now because nothing has changed. Average highs are in the low 80s far north to upper 80s far south and that is exactly where I see them being at the hottest for this next cycle of weather.
July 4th Outlook:
Friday through Monday Precipitation Output

Friday and Saturday Rain Totals; Courtesy of NCEP

Sunday and Monday Rain Totals; Courtesy of NCEP; Courtesy of NCEP

Deep Trough over the Ohio Valley; Courtesy of NCEP

Showers and Thunderstorms A Threat on Independence Day; Courtesy of NCEP
Sneaking a peak into the July 4th Holiday Weekend, the biggest of the summer season looks unsettled. I stress that things will change around a bit but the bottom line of the weekend is expect scattered showers and storms each day throughout with temperatures trending cooler. As the 3rd map portrays, a deepening trough will be entrenched across the region and nine times out of ten when you see that look in July it means showers and thunderstorms will be around. Right now heat just does not want to stay here despite many forecasts desperately trying to shove heat in here. This is one forecaster who refuses to buy into it.
By Weather Specialist Josh Ketchen
Keep it here at www.myweathertech.com for further updates.
Short URL: http://www.myweathertech.com/?p=1994
Posted by
Josh Ketchen
on Jun 25 2011. Filed under
WEATHER
. You can follow any responses to this entry through the
RSS 2.0
. You can leave a response or trackback to this entry